"Shaken, not stirred." By now we all know how James Bond believes the best martinis are made. However, for those of us who aren't spies with strict definitions on bar service, there is always room for creativity and fun when it comes to cocktails – especially when it comes to new twists on the classics!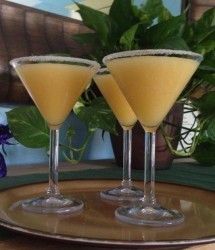 POSH Palm Springs
That's why for this month's Cocktails We Crave we're excited to introduce the POSH Martini from our friends at POSH Palm Springs in Palm Springs, CA. This fruity concoction combines citrus and sweet with some of our favorite spirits, which makes for a tantalizing treat to enjoy indoors or out as we savor the last few days of summer stateside.
Ingredients:
Ice
Banana Syrup
Vodka
Rum
Tequila
Orange Juice
Directions:
Fill a blender pitcher with ice and add 1 shot of Banana Syrup, 5 shots each of Rum, Tequila and Vodka and top off with Orange Juice. Blend on "Smoothie" setting for the best consistency. Pour into martini glasses (sugar rim optional). Makes 6 servings.