Many Americans celebrate Independence Day with delicious foods and drinks, here are some of the many BnBFinder.com recipes with enough red, white and blue to showcase your patriotism all weekend long!

Festive Fun Flag Cake
Festive Fun Flag Cake – Hide Away Country Inn – Bucyrus, OH
Ingredients:
• 1 package (18-1/4 ounces) French vanilla cake mix
• 1 cup buttermilk
• 1/3 cup canola oil
• 4 eggs
FILLING:
• 1 package (3 ounces) berry blue gelatin
• 1-1/2 cups boiling water, divided
• 1 cup cold water, divided
• Ice cubes
• 1 package (3 ounces) strawberry gelatin
• 2/3 cup finely chopped fresh strawberries
• 1/4 cup fresh blueberries
FROSTING:
• 3/4 cup butter, softened
• 2 cups confectioners' sugar
• 1 tablespoon 2% milk
• 1 jar (7 ounces) marshmallow crème
Directions:
Line a 13-in. x 9-in. baking pan with waxed paper and grease the paper; set aside. In a large bowl, combine the first four ingredients; beat on low speed for 30 seconds. Beat on medium for 2 minutes. Pour into prepared pan.
Bake at 350° for 35-40 minutes or until a toothpick inserted near the center comes out clean. Cool for 10 minutes before removing from pan to a wire rack to cool completely.
Transfer cake to a covered cake board. Using a small knife, cut out a 5-in. x 4-in. rectangle (1/2 in. deep) in the top left corner of cake, leaving a 1/2-in. border along edges of cake. For red stripes, cut out 1/2-in. wide rows (1/2 in. deep), leaving a 1/2-in. border. Using a fork, carefully remove cut-out cake pieces.
In a small bowl, dissolve berry blue gelatin in 3/4 cup boiling water. Pour 1/2 cup cold water into a 2-cup measuring cup; add enough ice cubes to measure 1-1/4 cups. Stir into gelatin until slightly thickened. Scoop out and discard any remaining ice cubes. Repeat, making strawberry gelatin.
In a small bowl, combine strawberries and 1 cup strawberry gelatin. In another bowl, combine blueberries and 1 cup blue gelatin. Refrigerate for 20 minutes or just until soft-set. (Save remaining gelatin for another use.)
Stir gelatin mixtures. Slowly pour blueberry mixture into rectangle; spoon strawberry mixture into stripes.
In a large bowl, beat butter until fluffy; beat in the confectioners' sugar and milk until smooth. Add marshmallow crème; beat well until light and fluffy. Spread 1 cup over sides and top edge of cake. Refrigerate remaining frosting for 20 minutes.
Cut a small hole in the corner of pastry or plastic bag; insert a large star tip. Fill the bag with remaining frosting. Pipe frosting in between rows of strawberry gelatin and around edges of cake. Refrigerate for 1-2 hours or until gelatin is set.
Yield: 15 servings.

Watermelon Punch – Big Mill Bed & Breakfast – Williamston, NC
Ingredients
1 lemon or orange, washed and sliced
1 2-liter bottle of lemon lime soda, chilled. Reserve half
1 large watermelon
1 6-ounce can frozen orange juice concentrate
¾ cup sugar or to taste
Directions
The ice mold should be made earlier, in time for it to freeze. The punch needs to be made just before serving
Ice Ring: Slice the lemon or orange and arrange in the ice mold. Pour 1/2 the lemon-lime soda into the mold and freeze
Punch:Cut watermelon into halves. Scoop out pulp and place in blender, seeds and all
Blend for several seconds on medium speed. Strain through a fine-sieve colander, squeezing out juice. Discard solid parts
Pour watermelon juice into a large container with lid. Add orange juice concentrate and sugar and stir until sugar and orange juice are dissolved. Chill until ready to serve
When ready to serve, pour punch into clear glass or plastic punch bowl. Add the lemon-lime soda and stir. Place ice ring in the punch bowl
Serving Suggestions: This is a gorgeous red punch, so be sure to serve it in a clear glass or plastic container. It looks great served in wine glasses
Serves 20

Patriotic Cocktail
Patriotic Cocktail – Hide Away Country Inn – Bucyrus, OH
Ingredients
• 1 ounce watermelon schnapps
• 1 big splash cranberry juice
• 1 very thin slice jalapeno or Serrano pepper
• 1 slice lemon
• 1 slice lime
• 1 1/2 ounces tequila
• 1/4 ounce blue curacao
• 1/2 ounce simple syrup
• Watermelon wedge, for garnish (optional)
Directions
Mix the schnapps and cranberry juice in a shaker; pour into an ice-filled glass
Muddle the jalapeno pepper, lemon and lime slices, tequila, blue curacao and simple syrup (to make a batch, dissolve sugar in equal parts hot water and chill) in the shaker
Slowly strain into the glass over the red layer. Garnish with watermelon, if desired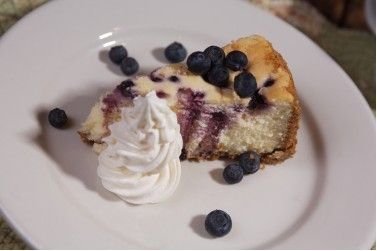 Lemon Blueberry Cheesecake
Lemon Blueberry Cheesecake – Inn & Spa at Cedar Falls – Hocking Hills Lodging – Logan, OH
Ingredients
2 1/2 lb Cream Cheese
1 cup Sugar
6 tbsp All Purpose Flour
2 tsp Lemon Zest
1 tsp Vanilla Extract
1/2 cup Lemon Juice
1 cup Blueberries
4 Eggs
3 Egg Yolks
Directions
Cream the cheese and sugar on low speed of stand mixer (speed 2 on kitchen-aid) until very pliable. Scrape down sides and bottom of bowl with rubber spatula.
Add flour in two parts, mixing well after each addition.
Add egg and yolks one at a time mixing well after each one.
When 4 eggs have been added, stop the mixer and scrape down the side and bottom with spatula
Turn back on to low speed incorporating the rest of the eggs
Blend until last egg has just been incorporated and stop
Add the vanilla, zest, lemon juice and ½ of the blueberries and blend for just 2 minutes
Pour into prepared crust
Sprinkle the remaining blueberries on top of the pie
Bake in oven with water bath at 425 F for 20 minutes
Turn temp down to 350 F and continue to bake for 50-60 minutes longer until set. (Little to no jiggle in center of pie)
Crust Ingredients
2 cups graham crumbs
4 oz butter melted
pinch salt
1 oz ladle of sugar
10-inch spring-form pan
Directions
Mix all ingredients together
Press into spring-form pan
Bake at 400 F for about 15 min until just starting to get color
Remove and cool before adding pie mixture

White Chocolate-Raspberry Cheesecake Bars
White Chocolate Raspberry Cheesecake Bars – The Hodgdon Island Inn – Boothbay, ME
Ingredients
12 Oreo cookies, finely crushed*
2 TBS butter, melted
3 squares Baker's White Chocolate, divided
2 pkg (8oz each) Philadelphia Cream Cheese, softened*
½ cup sugar
1 TSP vanilla
2 eggs*
¼ cup red raspberry preserves (preferably seedless)
Directions
Heat oven to 350 degrees
Mix cookie crumbs and butter; press onto bottom of 8-inch square pan
Melt chocolate squares as directed on package
Beat cream cheese, sugar and vanilla with mixer until blended. Add melted chocolate; mix well
Add eggs, 1 at a time, mixing on low speed after each just until blended
Pour over crust
Bake 25 to 28 minutes or until center is almost set
Cool 5 minutes; spread with preserves
Melt remaining square of chocolate; drizzle over cheesecake
10.  Cool cheesecake. Refrigerate 4 hours. Cut into 18 bars

Patriotic Trifle
Patriotic Trifle – Hide Away Country Inn – Bucyrus, OH
Ingredients
• 1/4 cup plus 2/3 cup sugar
• 1/4 cup fresh lemon juice
• 1/4 teaspoon almond extract
• 1 premade angel food cake, cut into 1-inch slices
• 1 pound cream cheese, at room temperature
• 2 cups heavy cream, at room temperature
• 2 pints blueberries
• 2 pints strawberries, hulled and sliced
Directions
Heat 1/4 cup sugar, the lemon juice and 1/4 cup water in a saucepan over medium-high heat, stirring, until the sugar dissolves
Remove from the heat and stir in the almond extract
Brush both sides of each slice of cake with the syrup
Cut the slices into 1-inch cubes
Beat the remaining 2/3 cup sugar and the cream cheese with a mixer on medium speed until smooth and light
Add the cream and beat on medium-high speed until smooth and the consistency of whipped cream
Arrange half of the cake cubes in the bottom of a 13-cup trifle dish
Sprinkle evenly with a layer of blueberries
Dollop half of the cream mixture over the blueberries and gently spread
Top with a layer of strawberries
Layer the remaining cake cubes on top of the strawberries, then sprinkle with more blueberries and top with the remaining cream mixture
Finish with the remaining strawberries and blueberries, arranging them in a decorative pattern
Cover and refrigerate 1 hour.
Have a fun, safe and patriotic holiday weekend while enjoying these delicious recipes!