Pies are known for their perfect flaky crusts and sensational sweet fillings. Many of BnBfinder's inns know how to make the perfect pie for any occasion, whether it's a pizza pie or miniature pie pockets, satisfy your taste buds and try these pie recipes today!
Breakfast Pizza
From the Maple Leaf Inn in Barnard, VT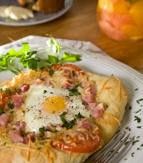 Breakfast Pizza
Ingredients:
Makes four approximately six-inch pizzas. I usually use the toppings listed below – occasionally using bacon instead of the ham. You can use anything you like – the trick is to keep it light and not overload the crust.
Crust:
2 cups unbleached bread flour

1 tsp salt

1 tsp fast-rising (bread machine) yeast

1 Tbls olive oil, plus extra for the oiling the bowl

1 cup warm water (not hot)
Toppings:
1 cup diced ham

Twelve thin slices tomato

¾ cup grated Parmesan cheese

4 large eggs, broken into individual bowls (yokes intact)
Directions:
1. To make the crust, put the flour, salt, and yeast in a food processor fitted with the dough blade and pulse several times to mix. With the processor running, add the tablespoon of oil through the feeding chute.
2. Then add the water in a stream until a soft ball forms – you will typically not use the entire cup. Stop the processor and move the dough to a floured surface.
3. Knead a couple of times and then form into a ball. Put the dough in a small oiled bowl and cover tightly with plastic wrap and put in a warm place to rise for one and a half to two hours – until doubled.
4. About an hour before baking the pizzas, preheat the oven with a pizza stone to 480 degrees.
5. When the rising is done, take the dough from the bowl and place it on a lightly floured surface. Cut into four equal portions and form them into tight individual balls.
6. Put a little olive oil on each and lightly cover with plastic wrap. Let them rest for about 10 minutes.
7. When ready to form the pizzas, take each ball and gently pull it into a small round crust. Then, place on parchment paper.
8. Dimple the crust with your finger tips and using the heel of your hand, push the crust into a larger circle with the outer edge a bit higher then the middle – each crust will be approximately six inches in diameter.
9. Brush a little olive oil on each crust and sprinkle the diced ham on each, leaving an empty spot in the middle of the crust. Place three tomato slices on top of the ham.
10. Then sprinkle the cheese on top of the ham and tomatoes. All these ingredients should form a dam to hold the egg in place.
11. Place the parchment with the pizzas the preheated stone and slide a raw egg into the middle of each pizza.
12. Bake for about 8-10 minutes – until the egg whites are set and the crust turns a golden brown.
13. Remove from the oven, and slide onto a plate and serve while hot.
Tip: The dough can be made in advance. Once it has risen, it can be frozen and then thawed in the refrigerator and brought to room temperature for several hours. It needs to be warm and pliable to form the pizzas. Alternatively, you can put it to rise in the refrigerator overnight and bring to room temperature about 45 minutes to an hour before forming the crusts.
Fried Peach Pies
From the Big Mill Bed and Breakfast in Williamston, NC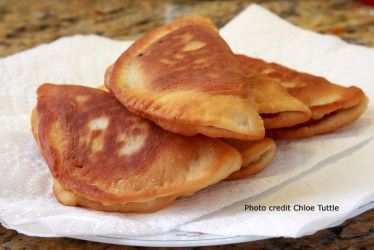 Fried Peach Jacks
Ingredients:
Filling:
1 6-ounce package of dried peaches*

1 1/2 – 2 cups water (If water cooks out before peaches are soft, just add more water)

1 cup sugar
Dough:
2 cups all purpose flour

1 teaspoon salt

1/2 cup shortening

1/2 cup milk

Extra flour for dusting cutting board and rolling pin.
For Frying:
1/2 – 1 cup lard for frying (or Canola oil)
Directions:
1. Make filling the day before you cook jacks.
2. Simmer peaches and water in a small saucepan for 45 minutes to an hour until peaches are soft. Be careful, they tend to stick.
3. Add water if needed. Add the sugar and cook 15 minutes more, stirring often.
4. Remove from heat and refrigerate overnight. You will have 2 1/2 cups peaches.
5. Stir together the flour and salt.
6. Using two forks, cut in the shortening.
7. Add milk and stir.
8. Separate into 8 to 10 portions.
9. Using the extra flour and a rolling pin, roll each dough piece into a 6″ round. Roll dough as thin as you can without tearing dough.
10. Put 1-2 Tablespoons cooked peaches in the center of the rolled dough.
11. Fold the edges over to make a half circle. Crimp edges with a fork. Trim off any extra dough.
12. Melt lard in a medium-size frying pan.
13. Grease should be quite hot before you fry jacks. Fry jacks until they are golden in color. Turn and brown the other side.
14. Remove from heat and drain on paper towels. Continue until all jacks are cooked.
The sweet, tangy taste of Peach Jacks is a treat. They are good cold but, oh, so good when they are hot. Yum!
Yield: 6-8 jacks
Use dried fruit . . . in the south we used dried peaches, apples or cherries. Fresh fruit just doesn't have the zing. And if Paula Deen is backing off, someone has to do it!
Strawberry Rhubarb Pie
From the Cabernet Inn in North Conway, NH
Strawberry Rhubarb Pie
Ingredients:
Filling
2 cups cut-up rhubarb (1/2inch pieces)

2 cups quartered strawberries

½ teaspoon grated orange peel (optional)

¼ cup flour

1 cup sugar

2 Tablespoons butter
Pastry
2 ¼ cups all-purpose, unsifted flour

1 Tablespoon sugar

½ teaspoon salt

½ cup (1 stick) cold butter

¼ cup cold vegetable shortening

6-7 Tablespoons ice water

1/2 teaspoon almond extract
Directions:
1. In a large bowl combine all the filling ingredients except the butter, toss and set aside.
2. In a medium bowl, combine the flour, sugar and salt.
3. Cut in the butter and shortening using pastry tool or two knives until mixture resembles coarse crumbs.
4. Add the almond extract and ice water, one tablespoon at a time, and mix until pastry holds together.
5. Shape pastry into two equal balls; flatten to 1 inch thickness, wrap in plastic wrap and refrigerate for at least 30 minutes.
6. Preheat oven to 425 degrees. Roll out one portion of dough onto a floured surface to ¼ inch thickness.
7. Gently place the dough into the bottom of a pie plate.
8. Fill the pie crust with the prepared rhubarb and strawberries and two tablespoons of butter.
9. Roll out second portion of dough. Cut into ½ inch strips.
10. Alternate strips to form a criss-cross pattern to cover the top of the pie, trim edges, seal and flute.
11. Place on a cookie sheet. Brush top of pie with beaten egg yolk or milk
12. Bake for 40 to 50 minutes. Until the filling starts to bubble.
Enjoy these recipes at your next gathering and we guarantee you'll be satisfied!