Tis the season for pumpkin! Now that fall has arrived it's the perfect time to snack on your favorite pumpkin-flavored dishes. Here are a few recipes you can make at home to share with friends and family.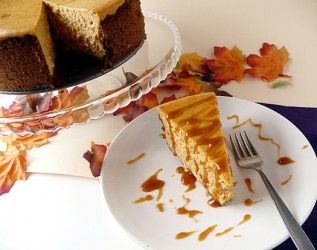 Harvest Pumpkin Cheesecake
Harvest Pumpkin Cheesecake from Pine River Ranch Bed and Breakfast
Ingredients:
Crust:
1 1/2 Cups Ginger Snaps Cookie Crumbs
6 Tbsp butter melted
1/4 Cup Sugar
Filling:
2 qty 8oz. Cream Cheese
1 Cup Sugar-Mix until smooth
2 Eggs
1 qty. 15oz. Can Pumpkin
2 tsp. Pumpkin Pie Spice
2/3 Cup Sour Cream
Directions:
Mix Ginger Snap Cookie Crumbs, melted butter and sugar in Food Processor or blender
Press crust into greased 9″ cake pan. Chill crust for 10 minutes in freezer until set or bake 10 minutes at 350 degrees
Cool before filling (OR you can use a ready made graham cracker crust)
Mix Cream Cheese and Sugar until smooth then add Eggs, Canned Pumpkin and Pumpkin Spice and mix until smooth
Fold in 2/3 Cup Sour Cream then pour over ginger snap or graham cracker crust
Bake @ 250 for 1 1/2 hours until set
Cool, cut & serve
Store in refrigerator for up to one week or you can freeze and serve in smaller portions.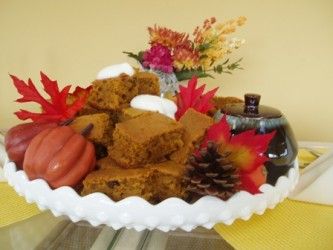 Pumpkin Brownies
Pumpkin Brownies from Stonewall Jackson Inn – Bed and Breakfast
Ingredients:
1 15-ounce can of pumpkin
1 ¼ cups vegetable oil
4 eggs
1 cup brown sugar
1 cup granulated white sugar
2 cups flour
1 teaspoon baking soda
1 teaspoon baking powder
1 teaspoon cinnamon
½ teaspoon allspice
½ teaspoon salt
1 container whipped topping or cream cheese frosting (optional)
Directions:
Preheat oven to 350 degrees. Beat together eggs, oil, pumpkin, and sugars
Stir in remaining ingredients until evenly mixed. Pour into a greased and floured 9-by-13 inch baking dish
Bake for 30 minutes, or until center springs back when touched
Top with whipped topping or cream cheese frosting! Great way to use those left over pumpkins!