New Year's Eve is quickly approaching this week. Looking to get a fresh start away from home without breaking the bank? Consider letting one of these B&Bs take care of everything for you- all you need to do is show up with a New Year's resolution and they will handle the rest.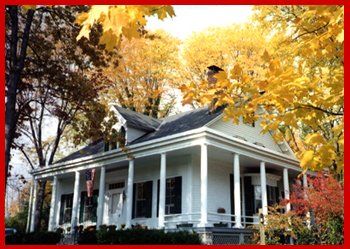 Caldwell House
Get Away From the Crowds in the City
In Salisbury Mills, NY, the Caldwell House Bed & Breakfast offers the perfect retreat for anyone looking to get away from the fast paced chaos of New York City for the New Year. Take a train or drive upstate to take place an early Happy Hour at the Inn followed up transportation to and from Anthony's Pier Nine for dinner and dancing to bring in the New Year in style. Wake up to a delicious breakfast buffet the next morning for the perfect end to your New Years activities.
Wine and Skiing in the Berkshires
Enjoy champagne and hors d'oeuvres in Lee, MA at the Devonfield Inn as you count down until the New Year. You will also receive a free bottle of wine as well as a gourmet candle lit breakfast by the fireplace. Take advantage of the complimentary cross country skiing and free tasting of up to 6 wines of your choice at the Furnace Brook Winery as well to add an extra twist to your New Year activities.
Sleep In at Carolina Beach
With a pre-dinner wine and cheese reception and early champagne toast, you will want to take advantage of a late wake up at the Beacon House Inn Bed & Breakfast in Carolina Beach, NC. Stay in late and enjoy a New Year's brunch complete with Mimosas and Bloody Marys to complete the perfect lazy New Year's celebration. With a late checkout time you will also get to enjoy the gorgeous weather and beach festivities that The Beacon House has available for guests.
The Inn At Jim Thorpe
Live Music in the Poconos
Listen to Lehigh Valley Music Award winners Steve Brosky & Jimmy Meyer with the New Year's Eve Package at The Inn At Jim Thorpe. Eat at the nearby Broadway Grille for both for both New Year's Eve dinner and New Year's Day breakfast. Also receive a bottle of wine and two souvenir wine glasses for staying.
Check out these and all our New Year's specials at legacy-stage.bnbfinder.com/NewYears