You don't have to dish out hundreds of Benjamin's to enjoy a relaxing President's Day getaway. This year, the holiday falls on a Monday, which means that most people will be enjoying a three-day weekend. Why not take advantage and book a trip that will leave you both refreshed and informed? Lovingly revived or preserved, these three B&Bs located in long-established hot spots are filled with historic charm.
Hillbrook Inn
While the first president of the United States, George Washington, may not have slept here, the Hillbrook Inn in Charles Town, WV sits directly on the president's first land purchase which he made in 1752. At the young age of 18, George Washington invested his earnings as a surveyor in 550 acres of farmland on Bullskin Run, two miles southwest of Charles Town, with Hillbrook Inn's 18 acres being a part of the original purchase.
Holladay House Bed and Breakfast
Before, during, and after the American Civil War, James Madison's nephew, John Madison Chapman, owned the property that is now Holladay House Bed and Breakfast in Orange, VA. Today, guests can travel back in time alongside period pieces (opera glasses from the era, a top hat, map of the country, etc.) and stay in the John Madison Suite, appropriately named after John Madison's nephew (also an owner of the property). The inn also offers history and heritage packages where visitors can tour picturesque landscapes and estates along "Constitution Highway" (Route 20), complete with a full itinerary, map, picnic basket lunch, and a complete breakfast each morning for $549 for two guests, plus tax.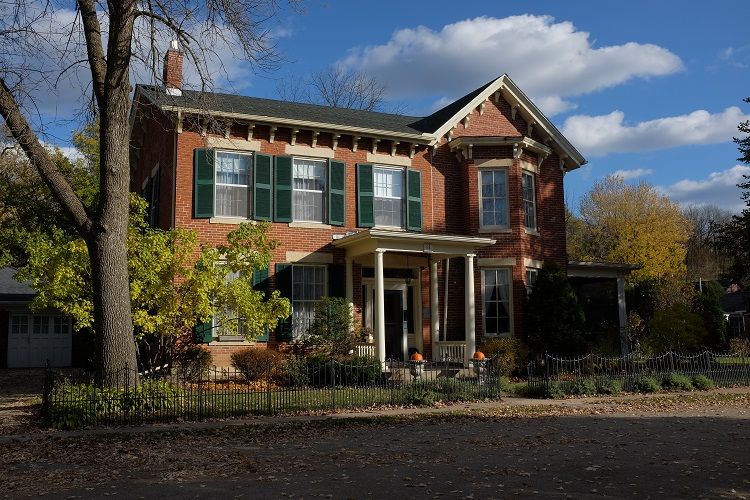 Aldrich Guest House
The Aldrich Guest House in Galena, IL has more than one connection to powerful people (and presidents) in history. The second owner of the property, Congressman J. Russell Jones, was a friend of Abraham Lincoln, who often stayed on the property after making one of his many speeches in Galena. The third owner/builder of the property, Mr. R.H. McClellan (also a congressman), was friends with Ulysses S. Grant. It is said that when Grant was training his troops for the Civil War, he used the yard in order to train his troops from Galena.