Raise your glass because today is Sauvignon Blanc Day (#SauvBlanc Day)! We figured it's the ideal time to pair this wine with some equally delicious dishes, which as you know by now plenty of our inns can provide. The zip and zing of this crisp refreshing white pairs well with a variety of light dishes like chicken and seafood specialties. Below are two enticing recipes we suggest to get your savvy on: Chicken Bryan from the Whitestone Country Inn in Kingston, TN and Baked Stuffed Haddock from the York Harbor Inn in York Harbor, ME.
Feel free to come up with your own pairings too with the help of our ever-expanding recipe page.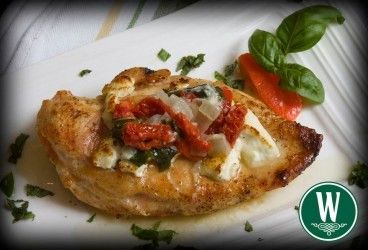 Chicken Bryan
Ingredients:
8 oz chicken breast
2 Pounds of Butter (Room Temperature)
3 Tbsp of Dried Basil
Juice of 2 Lemons
Goat Cheese
Salt and Pepper to Taste
Sundried Tomato and Garlic Char Crust
Fresh Parsley or Fresh Basil for Garnish
Directions:
Mix butter, basil, salt, pepper, goat cheese, and lemon juice in a mixer until well combined. Store in refrigerator in an air tight container. Dredge chicken in sundried tomato and garlic char crust and grill until done.
Plating:
Place grilled chicken breast on the plate and top with one scoop of butter and goat cheese mixture. Garnish with fresh parsley or fresh basil.
Baked Stuffed Haddock

Ingredients:
Seafood Stuffing
1 1/2 cups Onions, finely diced
1 1/2 cups Celery, finely diced
2-4oz Clarified butter
1# Cooked Native Maine shrimp, drained
8 oz Crab meat, drained
4 oz Chablis
32 oz Hi-Ho crackers, crushed
1 tsp Thyme
2 tsp Garlic, minced
½ oz Dry parsley, chopped
1 tsp White pepper
1 oz Worcestershire sauce
Creamy Dill Dressing
3 cups Mayonnaise
1 cups Sour Cream
2 Tbsp Oil
2 Tbsp Wine Vinegar
3 Tbsp Dill Weed
2 Tbsp Honey
1 oz Onion, minced
1 oz Celery, minced
1 ½ tsp Dijon Mustard
¾ tsp Garlic, minced
¼ cup Milk
1/8th tsp Salt
1/8th tsp White Pepper
Directions:
Sauté onions, celery, and garlic in butter until translucent. Combine thyme, wine, parsley, pepper and Worcestershire sauce. Mix well. Place crushed crackers in large bowl. Pour wine mixture into cooked veggies. Mix well. Combine veggie mixture with crushed crackers. Gently mix in seafood. Cool. Lay 6 oz haddock filet over 4 oz of stuffing. Top with 1 Tbsp dill dressing (see next recipe) and lightly cover dressing with buttered bread crumb. Bake in a casserole dish at 350″ with white wine and a little butter, for 25-18 minutes. For Creamy Dill Dressing: Combine all ingredients in a mixing bowl and whisk to blend. Refrigerate.