Among the very young at heart, treehouses will always be places we prefer for fun and feeling nostalgic. There are B&B's that understand such a need and give guests the ideal accommodations they desire. Relaxation and luxury can be found at the following inns where fresh takes on traditional treehouses do not disappoint.
Vertical Horizons Treehouse Paradise
Enjoy the Height of Relaxation at Vertical Horizons
Treehouse Paradise
Vertical Horizons Treehouse Paradise in Cave Junction, OR is an oasis available for fans of unforgettable travel experiences. Located near the Redwood Forest, the Oregon Caves, the coastline, and other notable local attractions, this B&B features full-size treehouses offering unique views of Southern Oregon. It's the ideal place to relive your greatest childhood memories while also enjoying daily gourmet breakfasts, which are prepared using fresh organic products (many of which are locally grown, plus special dietary needs can be accommodated). The inn also facilitates technical tree climbing for guests up to the challenge. Disc golf is available onsite too.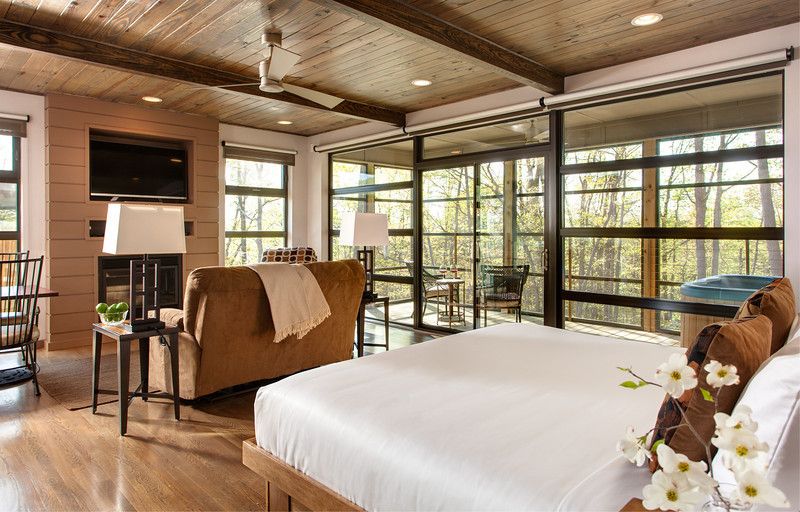 Iris Inn Bed and Breakfast
Elevate Your Travel Experience at Iris Inn Bed and Breakfast
Iris Inn Bed and Breakfast in Waynesboro, VA offers guests a unique and luxurious experience with their adult treehouse, which comes complete with modern conveniences. Secluded, self-contained, and in a woodland setting, the inn's contemporary cabins feature personal washers and dryers, heated floors surrounding two-person rain-head showers, Keurig coffeemakers with coffee pods, platform king-size beds, hot tubs, and electric grills on their decks. The cabins also include full-size kitchens with stovetop burners, microwave/convection ovens, full-size refrigerators, dishwashers, toasters and cookware. Guests awaken to a Shenandoah Valley morning streaming in through the windows. With nature as the wallpaper, visitors feel as though they are camping in luxury.