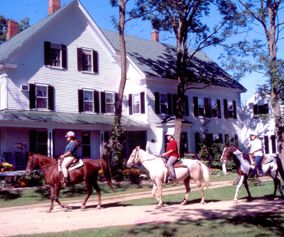 What better way to get the lay of the land then by experiencing it all firsthand? At Farm by the River B&B with Stables in North Conway, NH it's easy to do and comes complete with spectacular views. Surrounded by the breathtaking White Mountains, this B&B is located on 70 acres and offers guests a number of Stay and Ride packages, as well as year-round horseback riding, carriage, pony, wagon, and sleigh rides, where they can take in the sights from new heights!
"We do trail rides 4-5 times per day. Lessons are more one on one where as trail rides we can take 5-6 people at a time," reveals innkeeper Charlene Browne. "We have the Family Fun Package that includes two horseback rides or they can substitute a wagon ride, or we have an Easy Adventure Package for couples, which includes a carriage ride for two or two horseback rides. We even have an elopement package with a carriage ride for two included either as part of the ceremony or afterwards. My husband is a Justice of the Peace and has performed over 450 ceremonies so far!"
Situated just two miles from North Conway Village, Farm by the River B&B with Stables provides guests with numerous opportunities to enjoy recreational activities, tax-free shopping, fine dining, and more. Seamlessly combining modern conveniences with old fashion charm, all accommodations feature private bathrooms, flat-screen TVs, complimentary Wi-Fi, and more. Some rooms also have two-person Jacuzzis and fireplaces.
For additional information about the B&B and its packages, click here.