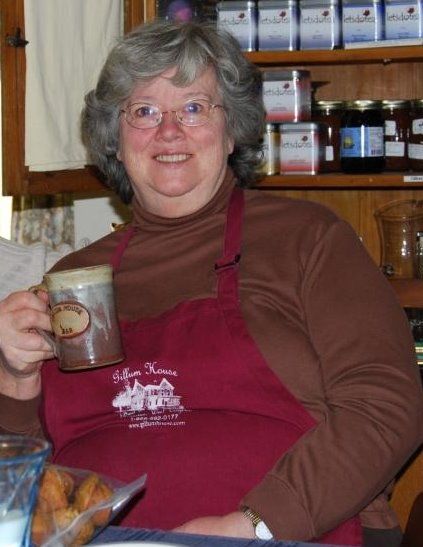 Innkeeper Kathleen Panek
Welcome to a new series on our blog all about our innkeepers. First up  we'll earn some fun facts about Kathleen Panek of Gillum House Bed & Breakfast in Shinnston, WV.
1. Do you have a favorite TV show?
The only TV I watch is Mysteries on PBS a couple of evenings because there are no commercials. I would rather read a mystery. It may sound like "fluff" reading, but the research required about location, customs, religions, etc. in these books has helped me learn quite a bit over the years – sometimes about how hotels or resorts operate and even recipes.
2. What has been your strangest guest request?
It was many years ago. We called him Mr. Romance. He must have called me 15-20 times between making the reservation and arrival. He asked if we had a CD player for soft music in the room. (I got lucky and found a clock radio/alarm clock/CD player on sale for $10 – and am still using them – one in each room). He wanted a different romantic surprise each day in the room when he and his wife returned from being out. One night a dish of strawberries and champagne (brand specific), one night candles (they were in glass containers), one night 4 dozen red carnations because that was her favorite flower, and the last night a candlelight dinner. The last night of his stay, he came down and asked if they could come down to dinner in the robes that were in the room. I replied, "You are the only ones here, I don't care if you come down starkers (naked)." He went upstairs and told his wife they had to come down for dinner starkers – she said, "I don't think so." When I gave him the bill for everything, he did not blink an eye as he said, "It was worth every penny."
Gillum House Bed & Breakfast, exterior
3. If there was a movie produced about your life, who would play you and why?
Except for the fact that she died long ago – Marjorie Main. She was not glamorous. For those who have no idea who she was, she was Ma in the Ma & Pa Kettle movies of yesteryear. She was loud, down-to-earth, take charge, and got things done without going crazy.
4. When you are not busy hosting guests, what are some of the things you like to do in your free time?
I read, and I play baritone saxophone in the Shinnston Community Band.
5. What is the best compliment you have received from a guest?
A gentleman told me that they had stayed in B&Bs all over the world, and we were in the top 5%. (I teared up.)