Why visit Santa Fe? Well, for starters, it's the oldest state capital city in the United States (and the oldest city in New Mexico, too). While it sits 7,000 feet above sea level, it's also the highest capital city in the country. Bragging rights aside, we must admit that the views alone are enough to send us packing. Once you catch a glimpse of the city's stunning architecture coupled with the Sangre de Cristo Mountains as its backdrop, you'll soon come to understand why Santa Fe is famous for being such an artistic hub. They pretty much own the arts (don't even try to deny it) and people travel from all over to marvel the artists. From modern to neo-classical to Native American…you name it, they've got it. There's so much to love about Santa Fe: their colorful cafes, historic museums, folk art markets, premier skiing, hiking, biking, and (without a doubt) some of the best chile and enchiladas you'll ever have. If you're interested in exploring a thriving art town, tasting unbeatable Mexican cuisine, and shopping in some of the world's best farmers markets, this gem in the desert is the place for you.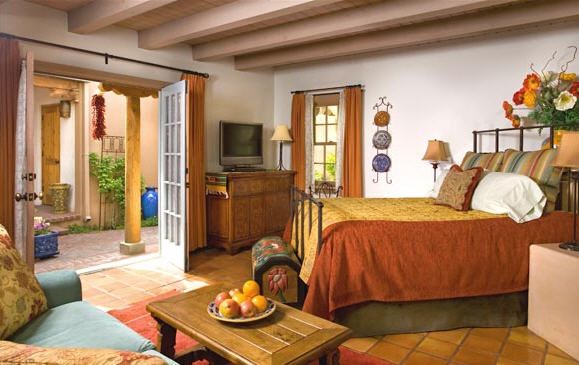 El Farolito Bed & Breakfast
What to Do
Discover the city's rich history: Early Native American inhabitants called it "Dancing Ground of The Sun"; while the founding frontiersman at the turn of the 20th century referred to it as "The City Different". Both nicknames hold true today, and you can see for yourself when visiting the Palace of Governors, the oldest government building in the U.S. Afterwards, treat yourself to Native American handcrafts (sold under the building's portal) as a souvenir.

Shop til you drop: You'll find a little bit of everything in Santa Fe. This is the place to buy cowboy boots, turquoise Native American jewelry, Spanish Colonial and indigenous art (or any art, for that matter). Don't miss out on the Downtown Plaza area where you'll find wall-to-wall boutiques and shops with everything from knick-knacks to designer clothing.

Explore some of the best neighborhoods: Head on over to the oldest neighborhood in town, Barrio Analco, where you can check out the oldest church in the country. Then, make your way to Canyon Road, home to over 100 art galleries, shops and restaurants.

Tantalize Your Taste Buds with Santa Fe's Most Beloved Beverage: Margaritas, of course! Trail adventurers have the opportunity to taste 31 different margaritas made famous by the most beloved restaurants and bars in The City Different. ¡Saludǃ
Where to Stay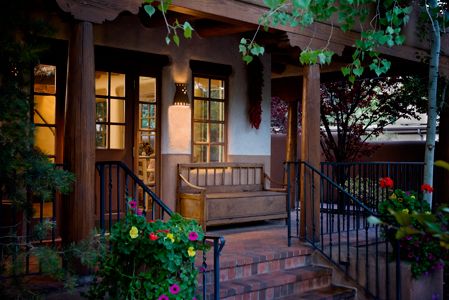 Inn on the Alameda
Nestled downtown between the historic Plaza and the galleries on Canyon Road, Inn on the Alameda offers guests privacy, comfort and charm in a romantic garden setting tucked behind adobe walls. Located just a short stroll away from world-class museums, fine restaurants, outdoor mercados, shops and historical structures, guests will be able to enjoy all that makes Santa Fe a unique and colorful destination. Amenities include a lavish buffet breakfast served daily, relaxing wine-and-cheese happy hour reception, outdoor hot tub, luxurious bedding and spa robes, fully-equipped exercise room, and a full bar and lounge.
El Farolito Bed & Breakfast is a quintessential Santa Fe lodging compound with a traditional adobe architecture. Guests can delight their senses in one of the eight beautifully appointed rooms and casitas, tucked among gardens and intimate walled-in patios. This charming B&B combines the modern luxuries expected with homey, personal touches that allow guests to feel comfortable and at home. Amenities include fine linens, fireplaces, and even private entrances. After a day of exploring the city, return back and relax with a glass of wine on a private sun-drenched patio, or unwind in front of the glow of a crackling fire.