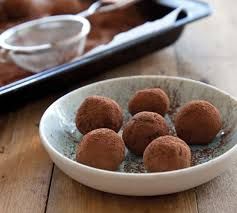 Inn at Riverbend
For chocolate lovers, Valentine's Day is one of the best days of the year. And what could honestly be better than a holiday where you're pretty much expected to give, receive, and eat chocolate everything? We're featuring a delicious recipe courtesy of Inn at Riverbend in Pearisburg, VA that will have you head-over-heels in love. Whether you're making them for someone special, friends, or solely for yourself, these Chocolate Raspberry Truffles deserve to be enjoyed.
Raspberry Truffles
Ingredients:
1/2 cup semi-sweet chocolate
2 tablespoons heavy cream
1 tablespoon butter
2 tablespoons seedless raspberry jam
Directions:
1. Cook semi-sweet chocolate, heavy cream, butter over low heat
2. Stir in the seedless raspberry jam
3. Wrap bowl in plastic wrap, freeze 20 minutes
4. Drop by teaspoon on foil, freeze 15 minutes
5. Remove from freezer and roll in cocoa
Yields one dozen. Serve at room temperature on decorative plate.