There's a lot that goes into planning a wedding. It doesn't take a wizard, but sometimes, it would certainly be helpful to have one! It turns out at Kaleidoscope Inn & Gardens in Nipomo, CA a seriously spell-bounding effort is being made to make one couple's dream come true with their upcoming Harry Potter-themed wedding. Known on California's Central Coast for gorgeous garden weddings and receptions, this romantic property is an exquisitely restored 1887 Victorian home that's situated near the ocean midway between San Francisco and Los Angeles. Located just off Highway 101, it's convenient to several area attractions, plenty of outdoor activities, and features an acre of beautiful, lush gardens with space that can accommodate up to 300 guests. We spoke with Beki Beauchamp, Kaleidoscope's Innkeeper & Events Coordinator, for inside scoop on conjuring the upcoming nuptials.
Q: How did the Harry Potter-themed wedding come about?
A: At the Fall bridal show in San Luis Obispo we were running an offer for a free bridal shower. Our winner (the bride) had actually signed up for a friend and then gotten engaged shortly afterwards. We had talked about a Harry Potter-themed wedding at the booth and how awesome the idea was. She decided to use the shower for herself in the end (after talking to the friend) and fell in love with the venue, so it was clearly meant to be. On booking, she explained that she and her fiancé are big Harry Potter fans (among other fandoms) and that she would like to run the theme throughout as much as possible. Being a big Harry Potter fan myself, she had me instantly excited and onboard!
Kaleidoscope Inn & Gardens
Q: What are you doing to prepare for the event?
A. The wedding isn't until the end of October, so we still have plenty of planning in the works. Most of the final details will be locked in at the next meeting. Of course, we are trying to add some magic throughout the decorations and through events taking place during the reception as a theme. I know most of the bridal party is cosplaying as characters from the books, which will be fun. Personally, I am planning to put on my Tonks costume to coordinate! In preparation here I have been collecting sturdy branches this winter to use as broom sticks on the day. We will add brush to the ends and hang them from the trees for that Quidditch-ready feel and maybe set up a mini pitch to actually play on one of the lawns. The bride and groom had been discussing display ideas. I suggested some cauldrons, but they have been having trouble sourcing some. Having previously been involved in living history with the Sealed Knot (a British Civil War reenactment society) in the UK, I know Renaissance fairs can be a great place to find accouterments of that type. As such, they will be getting friendly with their Renfair friends.
Halloween is also the perfect time to shop for little extras on a budget too, when else can you stock up on plenty of witch and wizard hats for all the guests to wear? We have a little stone-built room out back called The Cottage, which is perfect to recreate a mini Hagrid's hut. We are also talking about hiding a papier-mâché Buckbeak in there. The centerpieces will be simple flowers with candles and possibly books underneath. Plus, each table will be named instead of numbered as per houses, places, and people from the books. We have some owls that reside in the gardens' eucalyptus trees already, but some cuddly stuffy ones will be installed in other trees with letters to add to the theme. One of our willows will be named Whomping. The bride may be changing from a gorgeous dress into fun evening costume, which will be easy to swap over in our handy private bride's dressing room. When releasing tables, we are most likely going to have Harry Potter trivia going. If you answer a question correctly, you can free your table to eat! The plan is to finish the night with everyone casting lumos on their wands to say farewell to the couple (sparklers). Much more is to come though. Every time we have a meeting more ideas come up!
Q: Can you tell us what has been the most challenging and fun about pulling this together?
A: The most challenging thing so far is probably making sure the ideas do not run away from the budget and time available. It is very easy to dream about a Hogwarts Castle onsite, for example, but executing that would be extremely time consuming and expensive for those all too few hours of enjoyment. As with most couples, it is very easy to say you will make everything at home, but very soon the projects add up and you don't have time to finish half of them. It's a case of working out those little things to add the magic, without going overboard, and helping to temper the creativity to what is possible. I think for our bride and groom it has also been difficult tactfully turning down guests who have wild ideas of their own about dramatic reenactments for the day. The most fun part so far has probably been eyeing up unruly branches to see if they would be suitable for a second life as an imitation Nimbus 3000, alongside every planning meeting, which could not be more enjoyable as we get diverted discussing more creative ideas and possible executions for them.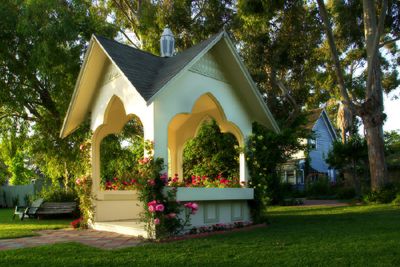 Q: Do you plan on doing other themed weddings, or have you already done some?
A: Here at the inn we are always open to whatever dreams guests would like to create. Our decoration rules are pretty relaxed compared to a lot of venues. We have had Disney princess and an Alice in Wonderland themes for birthday parties fairly recently. Wedding-wise most people don't tend to go too extreme, instead making the day their own with their favorite colors, accent pieces around the grounds, or themed decor (such as a barn or beach themes). Although, we have had some very entertaining processional songs, including the Imperial March from Star Wars! I am definitely always in for any theme, especially if they are happy for me to hop in with my creativity and dress up fun. If it's creative and different, I am definitely all in! In itself, Kaleidoscope Inn is a little bit different from a lot of other places locally, especially for the price (our weddings start at just $2500 for up to 65 people including chairs, tables, linens, napkins, setup, breakdown and coordination), and in this part of California there are not many 130-year-old houses, so we help stand out from the wineries and golf courses that are common round here. Plus, they can stay onsite and make it extra convenient for their close family and friends. If I could I would love to see as many Harry Potter, Lord of the Rings, Dungeon and Dragons, Disney, Star Wars, Star Trek, Steam Punk, Anime, Medieval, Victorian, 40's, 50's, or any themed weddings as couples care to put on right alongside the beautiful, elegant, and classical weddings that are also loved here. Only the future can tell if more wonderfully creative couples will grant that wish!
Q: Any other insights on the wedding coordination process?
A: Having worked weddings since my tween years and running this place with my father who has been working in the wedding industry over 15 years, we always get excited to try something new. If it is something we haven't done before then we will give it a go and maybe learn something along the way. With all weddings, a lot of bride and grooms are always worried about what is 'normal'. While there is certainly something lovely about having a classic wedding that has traditions reaching through centuries. I always remind my couples that it is their day, they can do whatever they would like, and it doesn't matter if it's not what people are used to, they can either set a new tradition or just go for the day that everyone will talk about for years to come and will stand out from the crowd. If you met and fell in love through your mutual love of something as awesome as Harry Potter why not celebrate that?